Message from the Dean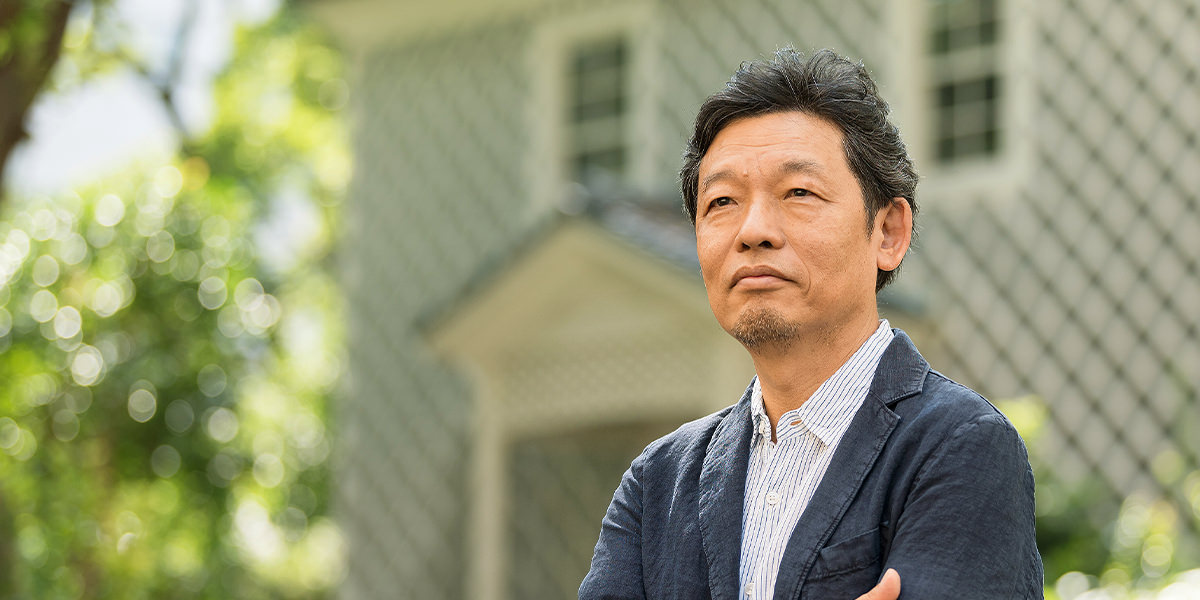 Admission to Keio University firstly means that each of you becomes a part of the Keio community upon setting foot in its grounds. Each and every person at Keio University shares in common various principles such as dokuritsu-jison ("independence and self-respect"); hangaku-hankyo ("learning while teaching, teaching while learning"); and jiga-sakko ("creating history to define the future"). These values are integral to what it means to be a part of the graduate school and a part of Keio University. The question then arises of how those of us who learn, teach, or research at a graduate school under the guidance of the school philosophy passed on by Yukichi Fukuzawa, should live and act.
The answer is simple. The answer is: "with freedom." My hope is that you will all live your lives with an abiding sense of freedom.
This may sound like a somewhat arbitrary suggestion. However, the progressive globalization of the world differs from so called internationalism, and is something that will destroy the premises of a modern society in which creation ideally stems from adherence to a single moral code or set of principles. Rather than having a single center, a state arises whereby there is a crowding of multiple centers, and this is found throughout society (from micro to macro dimensions). This will give rise to a questioning of the nature of the self, of other people, of family, of school, of organizations, of religion, of the state, ad infinitum. The same holds true for universities and the world of academia. Skeptical gazes are being trained on the very rules and principles which form the backbone of academicism. Just as is the case with the voice of god, there can be no single voice of truth.
What thus becomes important in the context of a society which is in fact polyphonous (that is to say having many voices) is the search, in and of itself, for these truths, as and when they reveal themselves. Moreover, we will likely encounter new, diverse and pluralistic examples of culture within the various sites of society. The ability to act with freedom is imperative such that knowledge can be animated and prescriptions on how one should live manifest themselves within this multicultural context. Life cannot be maintained by one center alone.
Allow me now to return somewhat to the story of our graduate school. The Graduate School of Human Relations was established on April 5, 1951, as a new type of graduate school. In contrast to most graduate schools, which are established as an extension of an existing undergraduate faculty, researchers with specialties from across disciplines, including those from the Faculty of Letters, Faculty of Economics, and Faculty of Law, converge here, and we have from the very start operated as a graduate school independent from any one faculty. Moreover, besides sociology, it is a graduate school which has adopted an extremely unique system, with additional majors in psychology and pedagogy. One is tempted to speak of a school characterized by "academic multiculturalism" rather than an adherence to principles of interdisciplinary studies.
Exchange with overseas research institutes also thrives. Many international students study at the graduate school. More than a quarter of all those currently enrolled are from overseas, with 27 international students in AY 2019 and 23 in AY 2018. In terms of international ties, we have an exchange agreement with the University of Vienna; a comprehensive agreement with the University of South Florida; an agreement on double doctorate degrees with the University of South Australia; in addition to classes and dissertation instruction from a number of renowned researchers invited from overseas to serve as Guest Lecturers each year.
The diversity which gives rise to polyphony is not confined to interdisciplinary situations or internationalism. Gender bias has long been singled out as a reality of the Japanese academy. This means that most of the faculty positions and student places at graduate schools are occupied by men. While six female members serve on the committee of our graduate school at present, they remain in the overwhelming minority. However, looking at the profile of early career researchers studying at the Graduate School of Human Relations, suggests we can anticipate that a great change to this situation is imminent. Incidentally, taking the students in my own lab as an example, more than 80% are female, and over half are international students: with China, Russia, Estonia, Italy, Germany, France, Spain, and the United States all represented.
Expanding the scope of the polyphony found at the Graduate School of Human Relations in the context of this increasingly polyphonous world will surely facilitate contributions to society and to the globe. In order for this to happen, it is essential that your unbridled creativity and dynamism interact with our unbridled creativity and dynamism. In fact, this is precisely how we will foster a culture of diversity and tolerance. I personally cannot wait to bear witness to these interactions.
But pardon my digression -- we have yet to touch on the "grace" alluded to in my opening gambit of "Diversity and tolerance with freedom and with grace." I invite you now to freely imagine what this should represent for yourself.